Posted November 21, 2017
BeachHead's community involvement!
A message from Jules Steele, Managing Partner at BeachHead Incorporated:
"On November 16th, armed with nothing more than a sleeping bag and a piece of cardboard, I took on the challenge of sleeping outside on the streets of Toronto, raising $15K for the homeless kids at Covenant House. It was cold and dark but for one night I gave up the comforts of home knowing it could bring warmth and brightness to the youth who need it most.
Sleep Out is a unique experiential event that took place in Toronto. I was one of the many men and women, alongside some influential folks from across different industries, who did what it took to fight youth homelessness and raised more than $1 million. On any given night in Canada, there may be up to 7,000 homeless youth.
For 35 years, Covenant House Toronto has offered some 95,000 homeless kids the opportunity and hope to move from a life on the street to a life with a future. There are countless more out there that need our help.
Covenant House Toronto changes lives by supporting as many as 250 youth a day, providing 24/7 crisis shelter and transitional housing on-site and in the community, along with education, counseling, health care, employment assistance, job training, and aftercare."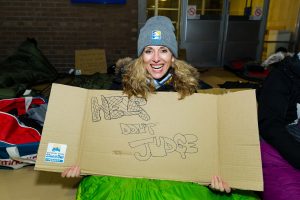 ---