Posted October 6, 2020
Wellness Initiatives to Support Your Remote Workers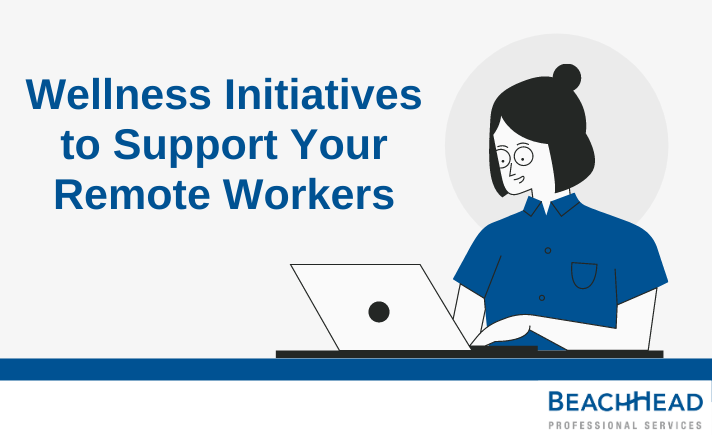 Working from home is now the new normal. Gartner recently found in a survey of global businesses that 50% are offering work-from-home arrangements. Another 15% confirmed that 61–80% of their employees are working remotely at the moment, further underscoring the increasing viability of remote work. Unfortunately, those who work from home are prone to experiencing health concerns, as they often have to deal with challenges such as feelings of isolation, burnout, and increased anxiety. Fortunately, companies with WFH setups can do something about it: Offer wellness initiatives in support of remote workers. Here are 5 suggestions to start with:
1. Ongoing health/wellness education
A Company Wellness Magazine post on employee wellness engagement notes that any health-related program must have an educational component, where the benefits of a healthy lifestyle are emphasized. You can do this remotely by disseminating health information online via internal communication platforms and emails, or by sharing digitized handouts over the cloud. You can also share online videos about health and fitness, or host webinars and Zoom lectures with experts (e.g., nutritionists, fitness professionals, etc.). In this way, you'll reinforce the importance of healthy living, and maybe convince your team to follow this lifestyle.
2. Counseling support
Working from home might cause undue stress, which can manifest in a range of ways — from anxiety attacks and trouble sleeping to an irregular heartbeat. As such, it is imperative that you provide counseling support to anyone grappling with stress and anxiety. You can do this by subsidizing their telehealth consultations with mental health professionals, or by offering subscriptions to podcasts about healthy living. The additional costs will be worth it: A $1 investment in addressing mental health issues can yield an ROI of $4 due to increased employee health and productivity.
3. Health and wellness channels
One good way to engage your team in wellness programs is to have them take the lead. A simple but sensible way to do this is to let your team create health and wellness channels in your internal communication platform, so they can share with one another health tips and healthy food recipes (among other things). Whether on Slack or Flock, encourage your team to chip in with their own ideas and suggestions for healthy habits. Doing this makes wellness a team thing, and is likelier to entice everyone's participation.
4. Happy hours
Having fun is vital in improving mental health, as it's a way to de-stress and relax. That is why it's central to ResumeSeed's wellness strategy. A Pain-Free Working compilation of company wellness initiatives details how some startups are extending lunch hours so their coders can play board games for fun. Of course, team board game hours aren't a possibility for many of us right now. Thankfully, there are lots of virtual options, and the key is to just find alternatives, like online team-building bingo and virtual charades. Alternatively, let your team organize these virtual sessions, so they can decide on the games they'd want to play. These mental breaks will go a long way in enhancing your team's mental health. Not to mention, these will also address 1 of the 3 keys to job satisfaction we discussed previously: building and cultivating relationships at work.
5. Mandatory daily check-ins
Feelings of isolation and loneliness can take a toll on people, and their effects can range from increased stress to depression and even burnout. This is why it is highly recommended that managers set aside time for daily check-ins with everyone on the team. Doing so is added work, but it's a way to show your team that you truly care — and are willing to give support where necessary. Whether you schedule these check-ins in the morning before clocking in, or right after work, make sure to ask everyone how they're doing, and what the company can do to help them. In this way, you'll understand their concerns, and be able to address them accordingly.
Conclusion
Along with improving the mental health of the workforce wellness initiatives also help in boosting employee morale and overall productivity, thus positively impacting the bottom line of the business in the long run. Hence, implementing these programs will add a boost to your employee health and satisfaction, ultimately improving your employer brand and loyalty.
Are you looking to hire new talent? Send us your requirements at info@beach-head.com and we will help you find a perfect fit. For more exciting tips and tricks remember to like us on Facebook and do follow us on Twitter and LinkedIn.
Article prepared for BeachHead by: Diane Lowe
---