Posted December 3, 2019
How to Professionally Resign?
So, you have just landed your 'new' dream assignment! You are excited about the next stage in your career, and can't wait to leave your current position. And then the next set of emotions rise, and these feelings are often more complex. Perhaps a wave of relief that you are leaving your current role, or in some cases, nervousness about resigning from your current on assignment manager that you have grown to respect.
Resigning effectively and professionally is a skill that all professionals need to learn. Your actions with your employer or on assignment manager during the notice period will directly impact your teammates and management's opinions of you and will effect your professional reputation longterm. Your actions will either offer you an increasingly larger network of colleagues to rely upon as you go through your career or narrow your professional network, making each role harder and harder to come by. To sustain your professional standing during your career transition, read on.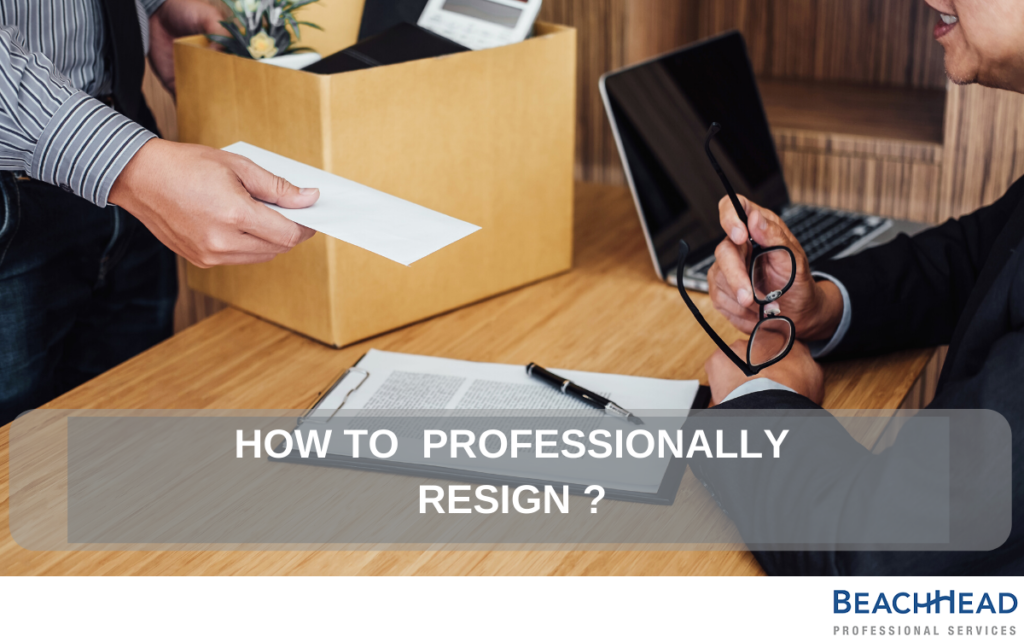 Prior to providing notice, it is important that you have completed and finalized all paperwork, references, and background checks with your employer and if contract, your agency. Make sure you have received written confirmation that your offer is complete, and there is no risk the offer will be withdrawn for any reason. Even if you think your credit, reference, and other checks will be overwhelmingly positive unless you have received confirmation that you can go ahead and resign, don't!
Once you have confirmation, you may now resign. No matter how you feel about your employer or on assignment manager, your actions from resignation to fulfilling your obligations during the notice period will impact your professional reputation and network. Here are my trusted tips to secure your professional reputation:
1. Prepare the resignation letter
Prepare a resignation letter in the draft. The letter should be diplomatic, clear about your intentions and whether you plan to send the letter via email or provide a printed copy, it should be dated on the day you plan to send the letter. RESIST the urge to send your resignation letter just now (this is a professional reputation moment!). Providing notice is not the time to hide behind electronic communication. It is important to speak to your manager first.
2. Communicate the right way
Send an email to your manager requesting a meeting, or if your work culture is such, speak to your manager directly. This step is regardless of any personal feeling you have for your manager or company. During this period, confidentiality is key (professional reputation moment)! Do not share anything regarding your intentions with your colleagues or friends. It is a professional courtesy to make your manager aware of your intentions first.
3. Advanced preparation comes in handy
It is entirely normal to feel uncomfortable about facing your manager, and for this reason, be prepared in advance. Preparation will allow you to present yourself as confident and respectful. Review your reasons for departure and ensure you have a diplomatic and positive message before speaking with your manager. Ensure your message is crisp, leaving no doubt of your intentions to leave. Additional points to be prepared below:
a. Serve your notice – Let your manager know that you intend to fulfill your obligations for notice period (professional reputation moment). The more senior and strategic the role, the more time you need to allow. Do not be swayed by your future employer or client to shortchange the notice period with your existing role.
b. Be transparent – Typically it is best to share with your manager where you are moving, even if it is to a competitor. By keeping your future employer a secret, it appears that you are being intentionally deceitful, which is not the last feeling you want to leave with your current employer. (professional reputation moment)
After the meeting, send your resignation letter to your manager via email.
4. Show the right attitude
From this point forward, maintain your professionalism, and do not communicate your departure with colleagues until it has been announced. Once your resignation has been made public, be prepared to feel like an 'outsider'. Your resignation may provoke a variety of behavior from your colleagues, and you must understand that everyone will react differently. Do not pander to gossip (Professional reputation moment). Let your colleagues know when you are leaving, where you are going, and the plan to transfer your work. Do not provide any additional information.
5. Be discreet
It is tempting once the announcement of your resignation is out, that you coast through to your last day. However, the last few days on the job will be the last impression you leave with your teammates and manager. Resist this urge to take days off, linger over lunch, and extended coffee breaks. Remember that your professional network and reputation are at stake. Provide a seamless and organized transition for your work, assisting in every way possible.
6. Leave amicably
Lastly, send a positive and professional farewell email, thank everyone on your team and let them know how to stay in touch!
Conclusion
There you go! Follow these tips and ensure that you're remembered fondly and respectfully at your workplace.
Need a new role? Ready to talk to one of our recruiters? Send us your resume at info@beach-head.com and we will help you find your perfect fit. For more exciting tips and tricks remember to like us on Facebook and do follow us on Twitter and LinkedIn. Apply to all our latest job openings here. Subscribe to our job alerts here.
---