Posted September 8, 2020
7 Effective Diversity Initiatives to Implement into Your Business!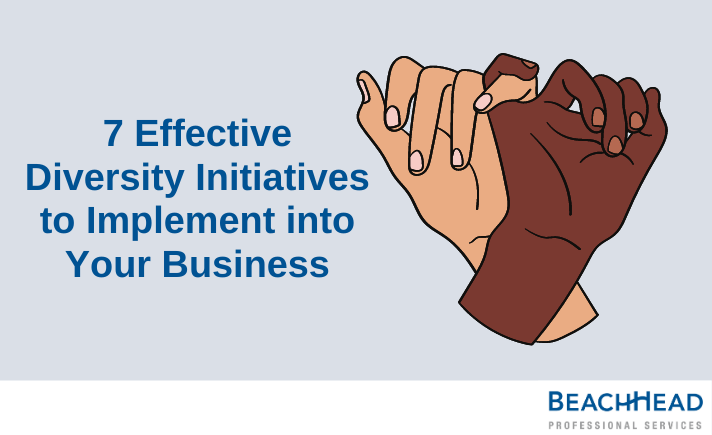 Despite ethnic and racial discrimination being a well-known reality in the workforce, diversity-related goals and action-plans are rarely seen or taken seriously. Fostering diversity in your organization, however, is crucial to not only creating a thriving business but also augmenting employee loyalty and brand reputation.
A diverse workforce brings a culture of creativity and innovation that can do wonders for the bottom line of most businesses. And yet, companies find it hard to attract diverse talent due to inclusivity issues in the workplace. For this reason, we have compiled seven initiatives that you can implement in your organization to reduce workplace discrimination and increase diversity.
Initiative 1: Track Diversity-Related Hiring Statistics
Our first initiative is to track diversity, race, and ethnicity related data during the hiring process. An example would be to track the number of coloured professionals who are shortlisted, interviewed, and offered a role. Observing these statistics at each stage of the hiring process will allow your hiring teams to have a greater understanding of where during the hiring process discrimination may occur and perhaps why. The vital data is the first step towards making change.
Initiative 2: Observe Whether Diversity is Prevalent in all Levels of Your Organization
One common misconception about diversity in the workplace is that diversity statistics found through the number of people on a business's payroll is the best way to see whether diversity levels are high or low. This results in a lot of organizations believing that they have an incredibly diverse team of employees when discrimination still lies within their organization. Numerous times, visible minorities are hired into lower-paying jobs, and thus less diversity is seen within senior roles and management positions. For this reason, you should be tracking which levels of your organization are the most diverse and whether minorities are being given opportunities to grow within your business.
Initiative 3: Start an Employee Resource Group
This initiative is especially important for larger companies with high numbers of employees. In brief, an employee resource group in an employee-led organization is created to foster inclusion and camaraderie among employees while elevating the mission of the organization. In your organization, a visible minority, black, or diversity-focused employee resource group may be valuable to allow voices to be heard in areas of your organization where they otherwise would not be.
Initiative 4: Increase Diversity in Hiring Teams
Another consideration during your business's hiring process is whether the team who is making the hiring decisions is diverse. It is a known fact that hiring managers are most easily drawn to people whom they relate to and can easily see integrated into their network. Although subconscious, this discrimination occurs frequently. Thus, an effective way to increase diverse hires could be by ensuring a diverse team makes the hiring decisions. 
Initiative 5: Use Local Resources and Grow a Diverse Network
It is a well-known fact that knowledge and education about race and ethnic discrimination can help increase inclusion and diversity. As a result, educating your teams about local events and resources is a great way to educate and foster ideas of inclusion into your everyday work environment. Moreover, giving your employees the resources to grow a more diverse network is one of the greatest tools to help workplace diversity.
Initiative 6: Create a Culture of Diversity and Allies
Along similar lines to the previous initiatives, ensure that your organization is instilling a culture of diversity and allies. Ensure that your business is continuously working to create a safer and more inclusive environment for people who are often discriminated. Moreover, ensuring that these people have equal opportunities to grow professionally. 
Initiative 7: Balance is Key
Our last initiative is to foster balance, especially during your hiring process. One common misconception about being 'diversity-focused' during the hiring process is that merit and credentials matter less than being a visible minority. This should not be the case, inclusive hiring processes should be aware of discrimination and open, but at the end of the day, the best candidate should be hired for a role.
Conclusion
There you go! Our seven initiatives that will aid your organization in becoming more inclusive and diverse. We hope that through these initiatives, you and your business will continue to be aware, grow, and change areas of discrimination that are often found in the professional workforce.
Are you looking to hire new talent? Send us your requirements at info@beach-head.com, and we will help you find your perfect fit. For more exciting tips and tricks, remember to like us on Facebook and do follow us on Twitter and LinkedIn. Apply to all our latest job openings here.
---