Posted June 6, 2018
4 Key Tips To Land Your Dream IT Job
Struggling to find your dream IT job? Follow our 4 Key Tips to Help You Land It.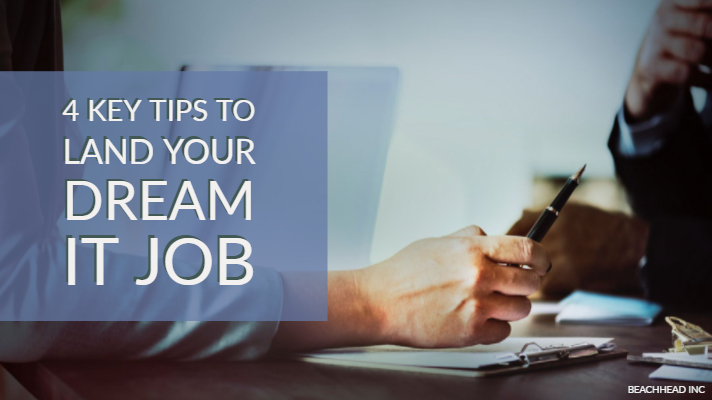 Conducting Critical Research
Research is one of the key factors to land an IT job that you've always wanted! Before applying for any opportunity, it is very important to understand your strengths, expertise, as well as the sectors that interest you. To begin, start with researching about the Information Technology sectors where you wish to work. You should ensure that your skills and expertise are in demand within this sector and the role that interests you, salary or contract rate is within your comfort zone, and you would enjoy working in a particular work culture.
Networking within your field
It is important to start talking to professionals within your industry, quality staffing agencies, like BeachHead, who can market your profile, and build your network. You should connect with industry experts and thought leaders. They can guide you and provide you with critical industry insight. It is easy to find these people on various social media platforms such as LinkedIn and Twitter. You can also attend various Conferences, Meet-ups or Seminars within your area and connect with like-minded people. It is important to build relationships and find mentors through networking. Long term, a mentor can also offer referrals at a later stage in your career.
 Creating a Personal Brand and Resume
Sounds weird? Well, brands are what excites us towards making a buying decision, don't they? Staffing firms and hiring managers are influenced by candidates who have a Personal Brand and are not afraid to showcase it to the world. Companies today not only want managers but leaders who think out of the box and lead the company on the path of innovation. Your Personal Brand should reflect in your resume. Instead of following regular run-of-the-mill resume, take some time and think about structuring it in a way that showcases all your skills and achievements effectively. Make sure it is simple, an honest reflection of your experience, free from any grammatical or formatting errors, and your work history is in reverse chronological order (in other words, most recent experience first). That said, it is also a reflection of your personality, and is often the only tool used to determine if you are worthy of an interview.  So, make it worth their time.
Handling Interview like a Pro
Now that you're at this stage, you are one step closer to getting that dream job!  Quality staffing firms, like BeachHead, can assist you in preparation for the interview.  But we have a few key tips. Make sure you dress for the day. Remember, the first impression will have a lasting impact on the mind of the interviewer. It is highly important that you're confident and have that charming smile on your face all the time. Be enthusiastic but honest. Show them what you know and that you're willing to learn. Do your research about the organization and be prepared with relevant examples of the work that you've done in the past. It is extremely important for an IT Job that you prepare yourself for the technical questions well in advance as these interviews can get highly technical. Do not hesitate to ask questions at the end of the interview, but asking the relevant questions are equally important.
Conclusion
There you go! Follow our guide and land your dream IT job in no time. Want us to match you with your dream job? You can send us your resume highlighting your skills and experience at info@beach-head.com
---