Posted June 11, 2018
5 Upcoming IT Roles To Future Proof Your Tech Career
Do you work in IT Sector? Have you been thinking of changing your career or upgrading your skills? Read on to find out the upcoming roles within the IT Sector.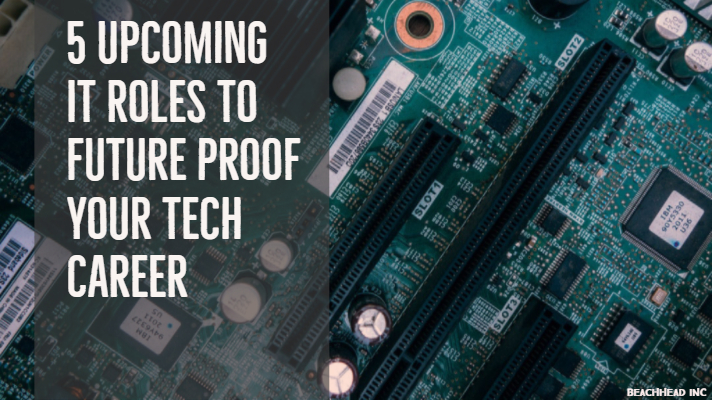 IT Sector is constantly being disrupted! With the emergence of new technologies more and more companies are creating niche roles and are on a constant hunt for candidates with these niche skills. Want to be on our Client's Hot Candidate list? Update your skills, upgrade your knowledge, and enhance your career with these in-demand information technology skills today.
Blockchain
Blockchain promises to change the world!  It underpins cryptocurrencies like Etherium and Bitcoin and is a distributed ledger software that transfers cryptocurrency and other information in a secure platform.  Toronto is a leader in the Blockchain space, and information technology roles dominate in this space including Software Developer, Product Manager, and Security Engineer.
Many experts anticipate that the crypto market will consolidate over time, so the demand for core developers may be limited. However, there will be a strong market demand within the financial services sector and other niche players building applications on top of the core platform.  BeachHead is already seeing strong demand for Developers with blockchain and cryptocurrency experience.
Cloud Computing
Cloud Computing continues to be a strong career choice and should be strong for some time! It is the storing and assessing of data and programs through internet or remote servers. A large number of Enterprise Companies are making moderate to heavy cloud investments. As a Cloud Developer or a Cloud Architect, you have to plan, organize or develop and structure the enterprises' cloud delivery models. You will be responsible for mitigating and managing your organization's cloud capabilities. There is a huge scope for Cloud Computing jobs today, and it is predicted to increase exponentially in the future. It's time you upgrade your cloud computing abilities! Are you already rocking as a Cloud Developer or Architect? Let us find your dream job for you. Apply now at BeachHead.
Big Data
As an IT professional, we are sure you must be aware of Big Data, as well as Business Intelligence Software that makes sense of the data. Hadoop and similar tools manage data processing and storage to handle huge amounts of data on clusters of servers. It makes it easy for large companies to store huge chunks of data collected continuously by them. As a Big Data Developer, you will be responsible for designing, building, installing, configuring and supporting Big Data. There is already a strong demand for Big Data roles, and you will be in one of the high paid and high demand roles in future.
Banks, as well as many social media companies, are significantly investing in Big Data and Hadoop is one of their favorite tools at the moment. Learning Hadoop will boost your career and make you a huge asset to the organization. Want us to find Hadoop roles for you? Send us your updated resume at info@beach-head.com.
Business Intelligence and Analytics
With large companies generating huge amounts of data every moment, the demand for Business Intelligence and Analytics experts is tremendously growing! Organizations need people to analyze data and gain meaningful insights to drive business choices. Working as a Business Intelligence or Analytics Expert, you translate large and complex data formats into simple, readable ones. This process allows businesses to make better decisions and improve their performance. You also assist with the designing and integration of powerful analytics solutions. The result of data analytics initiatives boosts business performance organization increasing revenues, operational efficiency, and customer service efforts. Are you looking for an analytics expert opening? Let BeachHead match you with your dream role.
Robotics/Artificial Intelligence/Machine Learning
The digital age is transforming the way we work. Big Data is speeding up the Artificial Intelligence (AI) development process and as a result, we may see the integration of AI and Robotics in our daily lives very soon. Working as an Artificial Intelligence (AI) Developer, you will have the flexibility and advantage of working in multiple sectors.  You can work as a Data Scientist, Business Intelligence Analyst, or AI Specialist. It is without a doubt with the advancement of robotics and machine learning, we will see increasing demand over the long term.  Interested? Start learning about AI today.
Conclusion
So, there you go! Our handmade list of hot jobs in the Information Technology. Since there is a possibility of many IT jobs getting replaced by newer technologies in the future, we highly recommend you keep upgrading your knowledge and work experience to ensure that your skills are relevant! Are you looking for a career change?  Send us your resume at info@beach-head.com and we will help!
---