Posted July 6, 2018
5 Things You Should Never Say In An Interview
Job Interviews can be very stressful, especially if you're not prepared in advance. We have seen a lot of candidates be nervous and succumb to pressure.  By being prepared, you ensure that you can handle difficult questions and that you present yourself at your best.  Further, you will have the opportunity to discover if the role is the right fit for you and if the culture and work environment meets your expectation.  Preparation ensures that you will leave a good impression.  Read on, and we will share with you 6 things you should never say in an interview.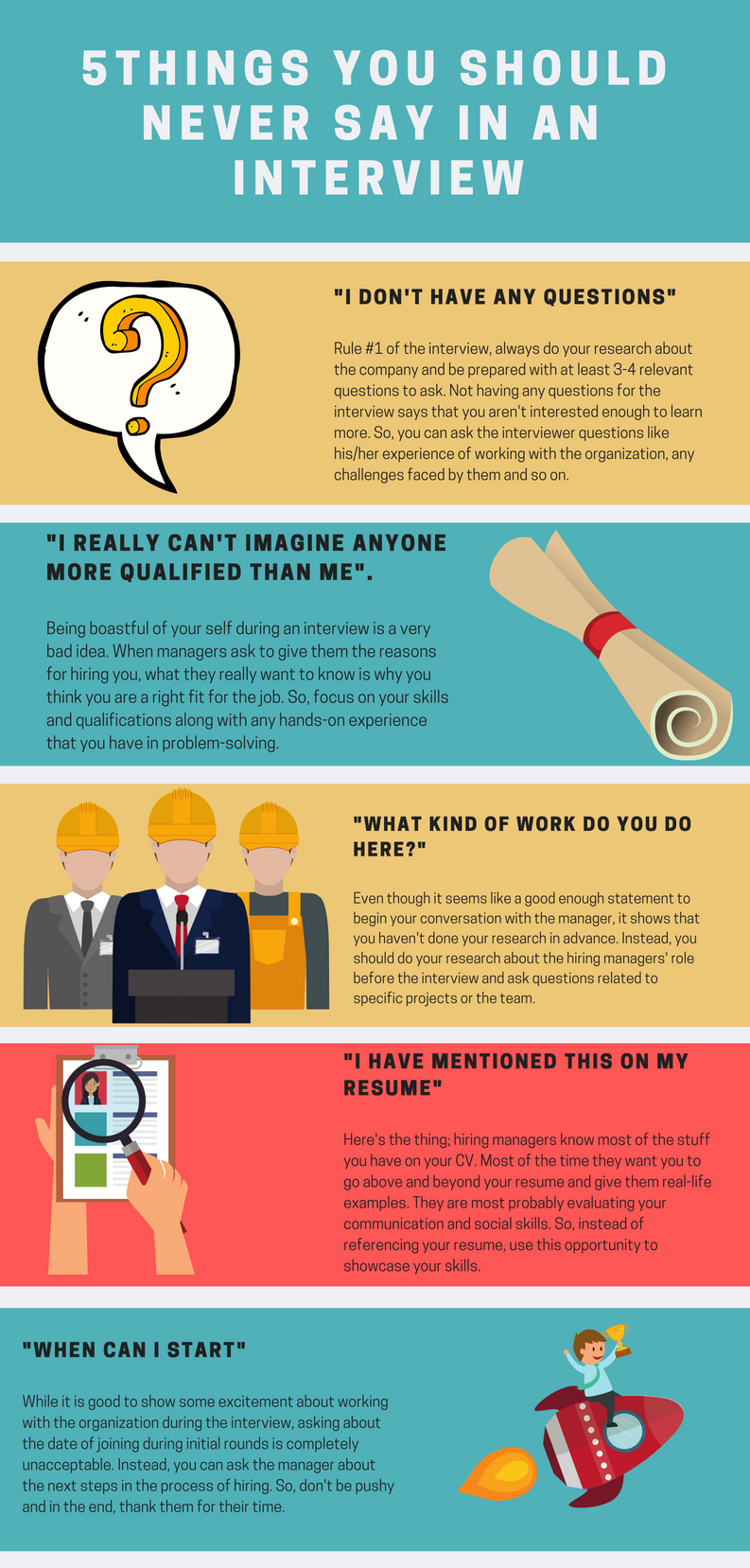 "I DON'T HAVE ANY QUESTIONS"
Rule #1 of the interview, ALWAYS do your research about the company, as well as the interviewer, and be prepared with at least 3-4 relevant questions. Not having any questions for the interview says that you are not prepared or not interested enough to learn more. Great questions to prepare in advance are organizational culture questions such as asking the interviewer his/her experience of working with the organization or any challenges faced by them.  Other questions related to specific topics discussed during the interview. These can be addressed along the way or can be discussed at the end of the interview.
"I REALLY CAN'T IMAGINE ANYONE MORE QUALIFIED THAN ME"
Having pride in your skills is great!  It shows that you have confidence and the ability to work independently.  However, being boastful during an interview is not recommended. Managers want to know how your skills, experience, and personality will fit for the job or the contract. So, focus on your skills and qualifications along with any hands-on experience that you have in problem-solving. Use words such as "I", "My", "Me" when referring to your experience and what you contributed to previous projects.
"WHAT KIND OF WORK DO YOU DO HERE?"
Even though it seems like a good enough statement to begin your conversation with the manager, it shows that you haven't done your research in advance. Instead, you should do your research about the hiring managers' role before the interview and ask questions related to specific projects or the team.
"WHAT IS THE SALARY? OR HOW MUCH ARE YOU GOING TO PAY ME?
While you should definitely ask for the salary and negotiate it, you should really wait till the hiring manager offers you the job. Talking about salary during initial rounds of screening portrays you as a person who is motivated by money, rather than the role and the organization.
"I HAVE MENTIONED THIS ON MY RESUME"
Hiring managers and recruiters generally come prepared to interview you. During interviews, they want you to provide first-hand information about your career and contract history, by providing relevant information related to the role.  It is your opportunity to provide examples of your experience and personality directly related to the role. Prepare in advance, relating the job description to your experience and be prepared to provide relevant examples.  Hiring managers and recruiters often use probing questions related to your resume to evaluate your communication and social skills.
"WHEN CAN I START"
While it is good to show some excitement about working with the organization during the interview, it is generally regarded as assumptive or pushy to ask about the date of joining during a first round interview. Instead, we recommend that you communicate your interest in the role and inquire regarding the next steps in the process of hiring. So, don't be pushy and thank the hiring manager or recruiter for their time.
Conclusion
There you go! Do remember to focus on highlighting your skills, knowledge, and experience. If you want to know more about interview do's and don'ts, do let us know in the comments section below. Want our help in securing your dream job? Send us your resume at info@beach-head.com.
---