Posted December 15, 2021
3 Useful Salary Negotiation Tactics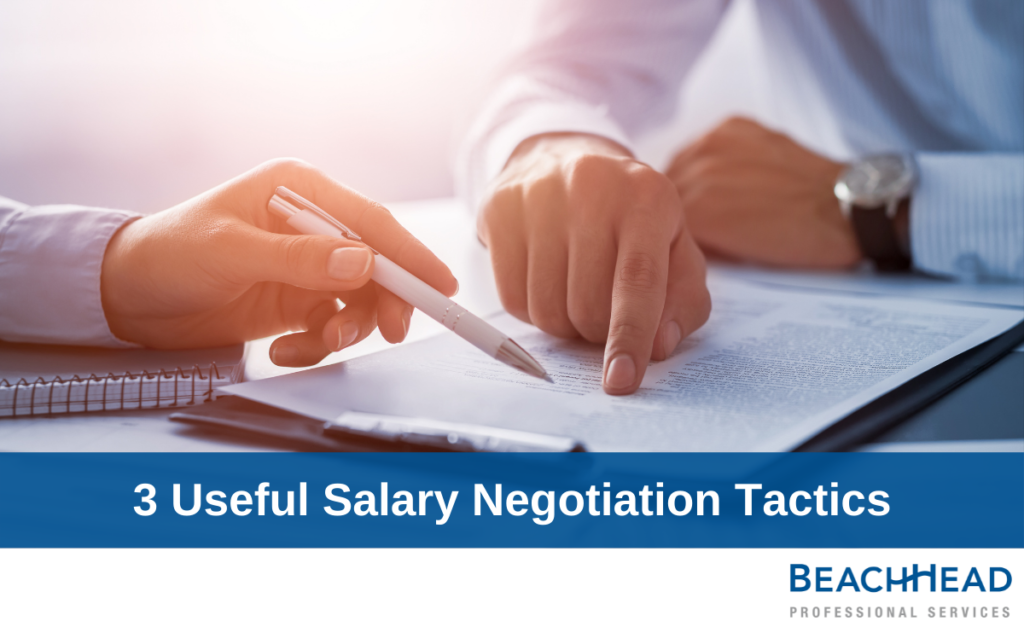 Whether you just received a new offer or have been working in your current position for a while, it may be time to consider negotiating your salary. However, many people inadequately negotiate their salary with their employer and receive less than ideal results. For this reason, the BeachHead Team has assembled several tactics to help you negotiate your salary effectively.
Before delving into the tactics, it's essential to remember that more than just monetary pay goes into how employers evaluate salaries. Consider other factors such as healthcare benefits, childcare, tuition reimbursements, paid vacation, and professional development opportunities while determining the ideal wage you would like to receive. By understanding how these additional benefits influence a salary, you can leverage more benefits during negotiation or to better understand why your salary is more or less than market value.
Tactic 1: Determine how your value and the market match up
Before even speaking to your employer about potential changes in your salary, you must first determine what your value is as an employee and how that evaluation corresponds with typical wages for individuals in your market and role. Look for indicators that you are underpaid in comparison to competing positions with this understanding. These indicators will allow you to make an argument that you could find a role elsewhere that pays more. What if your current salary matches or exceeds a market valuation? Then, take into consideration your value in a particular position. Make an argument that you bring more to the table than the average employee hired for your role.
Tactic 2: Outline your argument and practice your points
After determining your role's actual value, the next tactic is to outline and practice before negotiating. To outline, write your points out on a piece of paper and understand the 'whys' behind your request. Next, ask a friend or colleague to play the employer's role with you while you practice negotiating verbally. Just like an interview, it is crucial to understand your worth fully and be able to adequately verbalize it to others before entering a negotiation with your employer. This tactic in rate negotiation is also vital for building up your confidence to begin negotiating and during a negotiation. Confidence is essential to remember because remaining confident is a crucial factor that plays into an employer's willingness to be receptive to your request for a higher salary or additional benefits.
Tactic 3: Remember to balance flexibility and assertiveness
While negotiating your salary with your employer, it is critical to remain flexible. It is unlikely that you will receive the exact amount you request, so be prepared for other offers you may receive. Additionally, don't forget about extra perks that can be added to your role, such as healthcare benefits. One tactic while negotiating your salary is to ask for more than you would like to receive. This tactic is effective as it leaves room for negotiating offers not to get too low; however, it's important to request a realistic number to be taken seriously.
Also, remember, with flexibility, you must balance assertiveness. It is essential to know when to say 'no' and to be confident in your worth as an employee.
Conclusion
Well, there you have it! Hopefully, these three rate negotiation tactics will assist you in receiving the salary you deserve and desire. The biggest takeaways for success while negotiating your salary is to do determine your value, research what your value should be, outline your argument for a higher salary, practice with others, and lastly, be both flexible and assertive. With these tactics, you can gain the confidence to effectively communicate why you deserve an increased salary.
Are you looking to hire new talent? Send us your requirements at info@beach-head.com and we will help you find a perfect fit. For more exciting tips and tricks remember to like us on Facebook and do follow us on Twitter and LinkedIn. Apply to all our latest job openings here.
---