Posted March 16, 2022
4 Great Benefits of Social Media Networking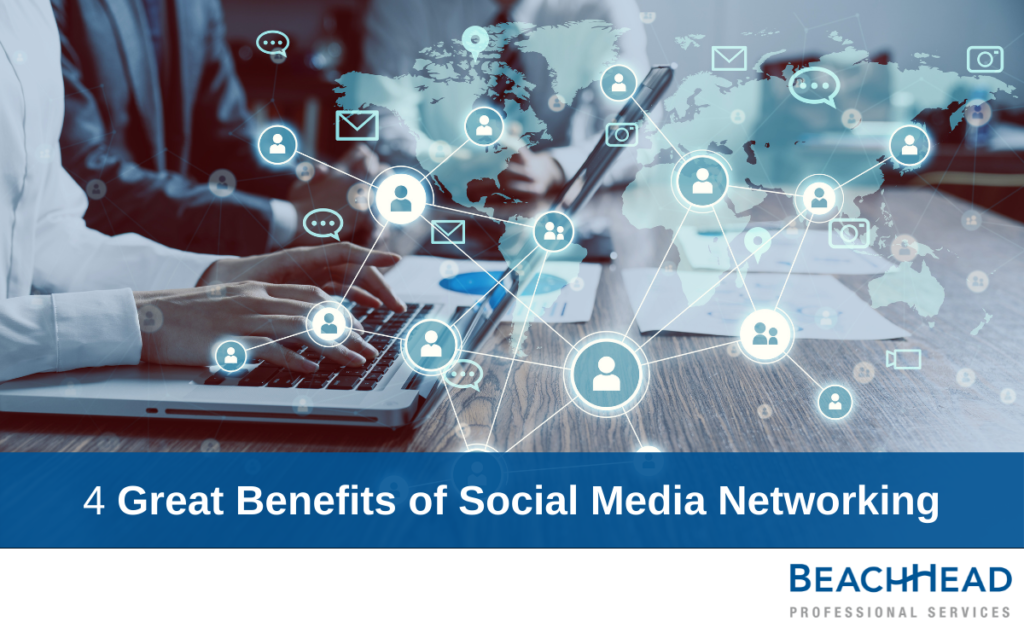 With an increasingly digital workplace, social media networking is becoming more and more vital for enhancing your career and expanding your network. Often, however, its utility can be forgotten, leaving many left out of the space. For this reason, the BeachHead Team had compiled a list of the benefits of social media networking so you can fully understand what you may be missing out on.
Whether on a professional social media platform such as LinkedIn or another platform that more suits your space, these digital avenues for connecting and enhancing your career are unparallel and crucial for career development.
Benefit One: Expand Network and Connections
The first benefit of social media networking, and often the most vital, is the ability for you to expand your network and create connections with those working in your space. The ability to seek out people and develop personal relationships with those either in the same area as yourself or where you would like to go allows you to seek greater opportunities and understand your industry to its fullest extent. Social media makes it easier to identify people and learn from their hurdles and successes. You can search and view people on a resource such as LinkedIn, understanding their career path and current journey. Moreover, you can connect with them via messaging resources.
Benefit Two: Job Searching
Social media has changed the working environment immensely in the age of the internet. Today, more than ever, the internet allows you to quickly seek out work if you are looking in the right areas. Moreover, it will enable you to research your industry to understand trends in rates and opportunities for those working in similar roles so you can gain the best opportunities to grow your career. Job searching can take form in job postings or in less obvious forms, such as connecting with those in your personal network or industry to learn and perhaps get offered opportunities to best suit your career.
Benefit Three: Demonstrate Knowledge and Experience
The third benefit of social media networking is demonstrating your knowledge and experience in your field. Networks such as LinkedIn allow you to create an easily accessible digital resume for potential employers to comprehend quickly. Moreover, through increased activity on these platforms, you can create posts or interact with those in your network so that people are more likely to access your expertise.
Benefit Four: Stay Up to Date on Communities of Interest
The last benefit of social media networking is having access to communities of interest. Whether this is the general industry you work in, would like to work in, or specific individuals or companies, you can easily follow and stay up to date on activities in your field. One essential step to growing your career is to understand the space you work in; social media allows you to do this to its fullest extent.
Conclusion
Hopefully, after reading this blog, you can more easily understand the vast benefits of social media networking and feel more prepared to use this tool to its full potential.
Are you looking to hire new talent? Send us your requirements at info@beach-head.com and we will help you find a perfect fit. For more exciting tips and tricks remember to like us on Facebook and do follow us on Twitter and LinkedIn. Apply to all our latest job openings here.
---