Posted June 23, 2020
Tips to successfully onboard employees remotely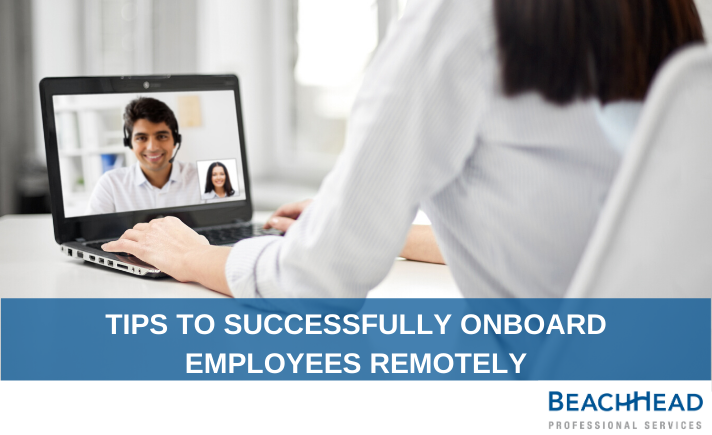 Onboarding remote employees can be challenging as it is much harder to immerse new employees into the company culture and provide the proper tools needed for success. Despite this, onboarding successfully is one of the most vital tools for ensuring the long-term success of employees. As a result, during each phase of the onboarding process, here are our expert tips to onboard employees successfully in a remote working environment.
Pre-onboarding
The pre-onboarding stage is critical, as you must set new employees up for success before work has even commenced.
Our first tip is to invest in digital software such as DocuSign or AdobeSign to use as a tool to sign any onboarding or business-related paperwork during the onboarding process.
To tackle challenges related to workday expectations and direction, our recommendation is to create a remote work policy document for all employees before they commence work. This document should include information on hours of operation/availability, communication expectations, expectations of business-related equipment, and any other information that will remove any confusion new employees may have while working remotely.
Along this line, it is also valuable to ensure that all resources for training are digitized before the commencement of training. Remember, it is always better to give onboarding employees too much information rather than too little.
Lastly, ensure new employees are sent the proper tools to succeed. This may include sending them a company laptop with access to proper software along with their workplace expectations. Moreover, if in-office employees are typically given swag-packages (ie. company mug, hat, stickers, etc.), ensure remote employees are also sent these gifts as it generates a great first impression and makes onboarding employees feel like they are joining a community.
Orientation
Once work contracts have begun, these are two key recommendations that will aid in the success and orientation of new remote employees. The first is to ensure that new as well as existing employees have access to a company affiliated collaboration tools. This means, email, video-chat, direct messenger, etc. This will promote collaboration and integration of onboarding employees. The second is to hold an orientation and introduction for new employees just as you would in an office space. This could include holding a video call to introduce new employees to members of their team and management.
First Assignments
During the third phase of the onboarding process, it is important to continue to communicate expectations and create opportunities for success. The most important tip for this phase is to ensure that team and coworker communication is ongoing as this will allow digital camaraderie to foster. One of the most important tools for ensuring the success of new employees is to make sure they are being integrated into the organization's community; even in a remote working environment.
Ongoing support
The last stage of the onboarding process, ongoing support, exists to ensure that there is no end to new employee support. In a remote working environment, it is essential to understand that one-on-one guidance and training may be needed more than expected. Moreover, after employees have completed their onboarding process, it may be valuable to ask for feedback on your remote onboarding process and make any changes to help foster greater success for future employees.
Conclusion
There you go! We hope that our tips to onboard remote employees successfully during each phase of the onboarding process will help create success for new employees joining your organization. Remember although the process may be challenging, employee onboarding is one of the most vital aspects of ensuring long-term employee success.
Are you looking to hire new talent? Send us your requirements at info@beach-head.com and we will help you find a perfect fit. For more exciting tips and tricks remember to like us on Facebook and do follow us on Twitter and LinkedIn.
---