Posted July 3, 2020
5 Tips to Master Video Interviews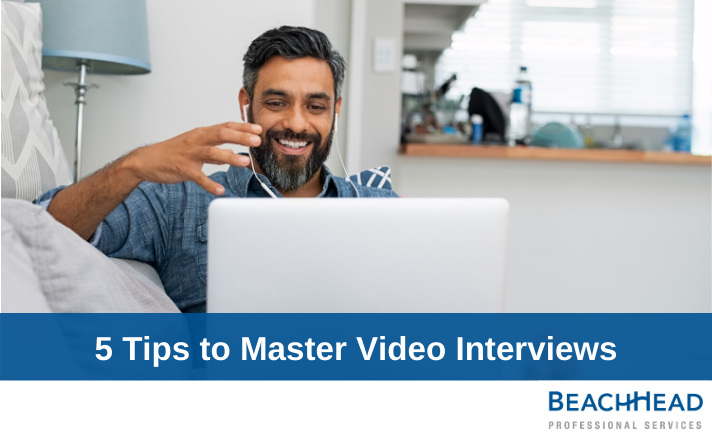 In this digital age, technology is rapidly changing a variety of common practices and processes, especially in the human resource industry. With an increase in digital adoption, it is very likely that you may be asked for a virtual interview if you are seeking a new role. Although most of the practices followed during a video interview and the in-person interview remains the same, the addition of the video technology and your physical environment brings up the need for some new interview norms and etiquette.
Whether you are a video interview veteran or have little experience, here are our 5 tips that will help you succeed in your next video interview and land that dream role.
Tip #1: Pick the right setting
One of the most basic and important tips while preparing oneself for a video interview is to ensure that your interview surroundings will set yourself up for success. Professionalism has always been important in interviews and with video, there are no exceptions. Video interviews have an added challenge of professionalism as not just yourself, but your environment also needs to be professional.
While creating the ideal interview setting, ensure that you have chosen a quiet and private place. Pick a room where no family members or roommates will walk by. Make sure all house-members are aware that noise needs to be at a minimum during the interview. The last and often most forgotten aspect of this tip is to pick a location with an organized background. Your interviewer does not need to know that you don't make your bed each morning or rarely do your dishes. Ideally, choose a location with a plain background, such as a white wall, or declutter a space.
Tip #2: Set yourself and technology up for success
The first aspect of this tip, setting yourself up for success, means to bring the right tools for a successful interview. You should have a printed copy of your resume at your desk or table as well as a pen and paper in case there are any important notes you need to take down. Remember to prep a glass of water, although you should avoid drinking during the interview, it is better to rehydrate your throat than struggle to speak especially through audio technology. Also remember to turn off your phone, not just to avoid it making noise, but to reduce distractions.
The second aspect of, setting your technology up for success, is crucial for video interview success. Firstly, ensure that your internet connection is good enough to hold a video call effectively, the last thing you want is your opportunity to be lost because the connection inhibited your interviewer from effectively hearing your responses. Also, to ensure there are no further technology-related problems, test your audio and video before your interview. Lastly, remember to plug in your laptop because you do not want to be scrabbling for a charger mid-interview or having your device die.
Tip #3: Watch your body language
Sometimes, the use of technology during a video interview can lead to a sense of separation between the interviewee and the interviewer. This tip is a reminder that regular body language during in-person interviews still applies during video interviews. Remember to maintain effective eye contact with the interviewer, look engaged, have good posture, use hand gestures when needed. Focus on remaining natural and pretend the interview is in person.
Tip #4: Practice standard interview etiquette
Tip 4, much like the one above, is a reminder that standard interview etiquette does not change while on video. Even with added benefits of remoteness through technology, you should still prepare and arrive early. Moreover, dress professionally and simply, avoid bring colors or patterns as these can be distracting through video. Lastly, just as will any other interview you should attempt to go above and beyond. Thank the interviewer through video at the end of your interview, and send a post-interview thank-you note. Not just for courtesy, but as a reminder of your desire to be chosen for the role.
Tip #5: Don't 'Cheat'
Our last tip is to not 'cheat' during your video interview. Although with the added barrier of technology it may be tempting, 'cheating' can be detrimental for your interview performance.
One common idea during video interviews is that professional clothing only incudes your torso and added comfort can be achieved and not seen by wearing sweatpants or pajama bottoms. This habit will not allow yourself to fully enter the interviewing environment and if there were ever a situation where you had to stand up, your 'cheat' would be exposed and you would likely not get the job.
During video interviews, many people are tempted to prepare a cheat sheet filled with common interview questions answers (ie. what are your strengths and weaknesses?). Although this may seem like an effective way to not stumble or struggle to find responses, cheat sheets can make your answers sound robotic and will not allow you to keep eye contact will your interviewer.
Conclusion
With the effective implementation of these 5 tips, you should be able to rock your next video interview. Although the implementation of technology into the job searching process may be challenging, it offers an incomparable level of convenience and opportunity. Just remember that these tips will help you gain the skillset to achieve your dream role and any future positions you desire.
Are you looking for a new role? Send us your resume at info@beach-head.com and we will help you find your perfect fit. For more exciting tips and tricks remember to like us on Facebook and do follow us on Twitter and LinkedIn. Apply to all our latest job openings here.
---