Posted July 27, 2020
3 Useful Strategies to Bounce Back After You're Let Go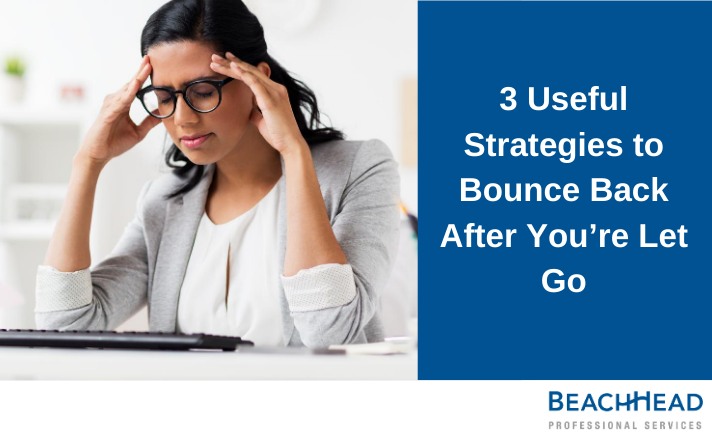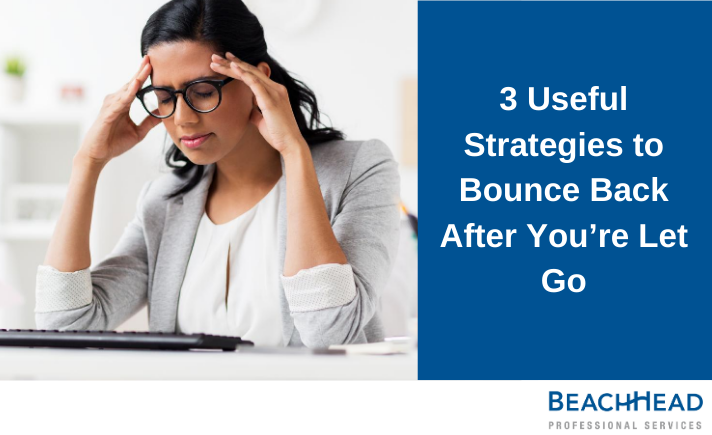 So, you have just been unexpectedly terminated. During this time you may have a variety of emotions; perhaps, sadness, confusion, and anger. But most importantly, you have no idea what to do and how you can bounce back.  Losing your job provides a unique opportunity for self-evaluation, and you can use our following expert strategies to turn this time of uncertainty into an opportunity.
It is critical to remember that being let go is experienced by millions of people throughout their careers, and can spark a remarkable growth of self-discovery and job fulfillment. You must choose whether to wallow in endless resentment or decide to grow your career and come out stronger.
Strategy 1: Take your Time
Our first recommendation is to take your time. It is essential to focus on yourself and your mental health before you can bounce back and become fully immersed in a new stage of your career. Take a week or two to relax, take a mini-vacation, or stay-cation to revive your mental health. Take this time to complete chores around your house that you did not have time to address while working full-time.
It is especially crucial during this break to reflect on what went wrong. Sometimes the reason for being let go it painstakingly obvious; however, most of the time, self-reflection is required. Look at your time during your last role and figure out what you could have improved, and what was holding you back from success. Although it is easy to place blame on your previous establishment, this step is important because it uncovers gaps that inhibit you from progress, your strengths and weaknesses, and personal goals. By giving yourself the opportunity of self-reflection, you will be able to bounce back into your career fully.
And remember that one great strategy to help revive your mental health is physical health. Work out, eat healthily, and take care of yourself.
Strategy 2: Reframe the Situation
Once you have taken a break, our next tip is to reframe the situation. Being terminated is a difficult situation; however, it is not the end of the world; it is often an excellent opportunity to bounce back into your career even stronger.
Firstly, it is crucial to address your finances. A part of being unemployed is losing a steady stream of income; as a result, you must evaluate your finances and determine how soon you need to find a new opportunity. Reviewing your finances will determine the amount of time you will have to find a job that fits your ideal career path. If you are unable to more extended sustain yourself for a longer period, you may have to accept a less perfect opportunity that may not fit into your career or financial goals. However, the longer you can search for your ideal role, the better chances you have to land your dream job.
Along the same line, you need to evaluate what your future goals are within your career. Explore opportunities, identify your strengths, weakness, and what you enjoy. Through this strategy, you can fully bounce back into an area that will foster success and happiness.
Strategy 3: Get back into it
Our last tip is to get back into the job search. Once you have taken a break after being terminated and assessed a plan of action, it is now time to get back on the market and bounce back. Firstly, make sure you are leveraging your network and building your brand; get your name out there and allow people to discover you quickly. For this, it is essential to update your professional profile and your status on LinkedIn, add relevant keywords to your resume and start applying for roles that will better suit your current career aspirations.
Conclusion
Finding the ideal job can be an exhausting process. By following these three strategies, you will be able to bounce back with ease after being let go. However, if you need extra help, work with a recruiter. Beachhead is continuously looking for new talent and will help you bounce back.
Ready to take on a new challenge? Send us your resume at info@beach-head.com and we will help you find your perfect fit. For more exciting tips and tricks remember to like us on Facebook and do follow us on Twitter and LinkedIn. Apply to all our latest job openings here.
---